Book – Get Some Headspace (10 Minutes can make all the difference)
Author – Andy Puddicombe
Genre – Self-Help
Book Published in – 2011
Headspace does not mean being free from emotions, but rather existing in a place where you are at ease with whatever emotion is present.

– Andy Puddicombe
Since you're reading this post, I safely assume you're either considering Meditation for some headspace or improving your overall well-being.
With this book and Headspace program, Andy demystifies Meditation and makes it available and doable for everyone in less than 10 minutes.
About the Book

–
Get Some Headspace is the perfect book for people sitting on the bench pondering whether Meditation is for them but also for people who started Meditation and feel they aren't getting anywhere.
Andy shares excellent analogies while explaining Meditation and its practice. It helped me grasp the concepts and put them into practice.
The book shares three parts of training the mind for headspace – How to approach the technique (Meditation), practice it, and then integrate the design into daily life.
The book is filled with small exercises, and Andy encourages us to do them simultaneously to get the hang of it. I did all the activities while reading the book and found them helpful.
Here are excerpts from the book.
---
Introduction
1) Meditation is an Experience –
Andy claims that Meditation is as much skill as it is experience. As you define its purpose, you also define its expertise.
Meditation is simply a technique to provide you with the optimum conditions for practicing mindfulness.
Meditation isn't about becoming a different person, a new person, or even a better person. It's about training in awareness and understanding how and why we think and feel the way we do, and getting a healthy sense of perspective in the process.
2) What is Headspace?
If mindfulness is the ability to be present, and Meditation is the best way of learning that skill, then 'headspace' could be considered the outcome.
Andy claims headspace is the place of contentment beyond what emotion is at play on the outside, good or bad. Essentially, it's 'being OK' with whatever thoughts you're experiencing or emotions you're feeling.
---
Part I – Approach to Technique
1) Meditation & Thoughts –
Myth No 1 – The purpose of Meditation is to empty the mind for good. The first thing to get straight is that Meditation does not make you think! All it does is shine an ample bright light on your mind so that you can see it more clearly. This bright light is awareness.
It is in not doing that those moments arise. It is stepping back and allowing the mind to unwind in its own time and in its way that you will find a genuine sense of headspace.
2) Meditation & Emotions –
It doesn't matter whether we're trying to get rid of lots of thoughts, difficult emotions, or a painful feeling in the body; it's all the same; it's RESISTANCE.
And as long as there's resistance, there's no room for acceptance. And as long as we don't have approval, there's no way of having a peaceful mind.
You'll have a quiet mind if you can give up your desire to experience pleasant things while giving up your fear of experiencing unpleasant things.
3) Gentle Curiosity –
It's a common mistake to make in Meditation, to search for some experience or want to be rewarded with some sign of progress or fruition, but peace of mind or insight will always be elusive if we are trying too hard to find it.
---
Part II –

The Practice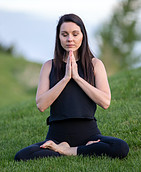 At the heart of most meditation techniques is the intention to remain focused, relaxed, and with that natural quality of awareness.
Here is the Summary of 10 Minutes Meditation.
1) Getting Ready –
Find a place to sit down comfortably, keeping a straight back.
Ensure you'll be left undisturbed during your Meditation.
Set the timer for 10 minutes.
2) Checking-In –
Take five deep breaths, breathe in through the nose and out through the mouth, and gently close your eyes.
Focus on the physical sensation of the body on the chair and the feet on the floor.
Scan down the body and notice which parts feel comfortable and relaxed and which feel uncomfortable and tense.
Notice how you're feeling – i.e., what sort of mood you're in.
3) Focusing the Mind –
Notice where you feel the rising and falling sensation of the breath most strongly.
Notice how each breath feels, its rhythm–whether long or short, deep or shallow, rough or smooth.
Count the breaths as you focus on the rising and falling sensation – 1 with the rise and 2 with the fall, upwards of 10.
Repeat this cycle 5 and 10 times, or as long as you have time available.
4) Finishing-Off –
Let go of any focus, allowing the mind to be as busy or as still as it wants for about 20 seconds.
Bring the mind back to the sensation of the body on the chair and the feet on the floor.
Gently open your eyes and stand up when you feel ready.
NOTE – I highly recommend you refer to the 10-minute meditation explanation in the book for better results. The whole book is less than 160 pages.
---
Part III – Integration into Daily Life
Practicing mindfulness in everyday life without even ten minutes of Meditation a day is a bit like trying to build the foundations of a house on loose gravel.
It will work but not as stable as if you built it on solid ground. However, the reverse is also true. What good is Meditation if it doesn't change how you feel and behave in life?
Mindfulness exercises for everyday living include mindfulness for eating, walking, exercising, and sleeping.
Andy explains the benefits and tactics for all four mindfulness exercises in the book well, and as you read through them, you'll be surprised and open to putting them into practice.
Andy also shares fantastic tips on how to part, like the best time, a place to sit, what kind of clothes to wear, the importance of repetition, and trusting our own experience as we move forward with practice.
---
I have also created a video of a few quotes from the book. Please subscribe to the YouTube channel for self-help book quotes- Myread4change –
---
Conclusion

–
Get some Headspace is by far the most practical book I have read. Even if you have a remote interest in Meditation, I highly recommend this book. It will help you let go of all inhibitions and begin Meditation with an open mind.
I hope this summary helped you understand what to expect from the book. You may check out the Headspace programs here.
Consider 10-Minute Mindfulness by Barrie Davenport & S. J. Scott if you like this book.
Thank you for reading. Please leave a few words in the comment box.
I am wishing you a peaceful life.
Muzammil