Book – Declutter Your Mind (How to Stop Worrying, Relieve Anxiety, and Eliminate Negative Thinking) (Summary)
Author – S. J. Scott & Barrie Davenport
Genre – Self-help Book
Published in – 2016
"Training your mind is the mental equivalent of tidying your house. It's a habit you must repeat daily to stay on top of it. Even though, training your mind is not as simple as housekeeping".
This is the 2nd book I picked from S. J. Scott & Barrie Davenport after receiving enormous value from their book 10 Minute mindfulness.
Declutter Your Mind will be of great help if you recognize any or all of the below hurdles in your life.
1) If you are constantly worrying about things you can't control and lose precious time overthinking about them.
2) If you have experienced times of high stress, agitation, anxiety, and even depression as a result of mental overwhelm.
3) If you are struggling to change your priorities, learn to manage and understand your thoughts so they don't rule your life.
About The Book –
Though we can't keep our mental house free from clutter at all times, we can impact our thoughts enough to improve the quality of our life and happiness with the help of strategies shared in Declutter your mind.
The author claims to teach us the habits, actions, and mindsets we can use to clean up the mental clutter that might be holding us back from being more focused and mindful.
The book is divided into 4 parts and share ideas of decluttering thoughts, life obligations, relationships, and surroundings.
Excerpts From Each Section –
---
Part I – Decluttering Your Thoughts
Understanding why behind habits, helps immensely in eliminating or changing them. Thoughts are no exception.
The authors share a couple of causes responsible for cluttered thoughts.
Daily Stress – We live in highly competitive world. There is too much competition and it is more about proving our self to others than accomplishing things that really matter.
Paradox of Choices – This is really big one. Though having choices has its own benefits, however with more and more choices in almost all aspect of life, even seemingly trivial things makes things difficult.
The best thing about Declutter Your Mind is that it gives you many possible solutions to combat thought clutter and we can choose, which suits us best.
Mental Declutter Habit # 1 Focused Deep Breathing–
One of the ideal ways to break the worry train, the negative thought pattern is to bring back attention to breathing, which is Mindfulness. As you focus on breathing you will realize over time, how easy it is to get down from the worry train.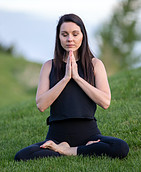 Mental Declutter Habit # 2 Meditation – Meditation is not only reserved for monks anymore or seen as a religious ritual alone. It has way too much mainstream acceptance nowadays. There are numerous researches out there supporting Meditation.
If you have never tried Meditation so far or are not willing to invest too much time into it, you may consider the 3 Minute Meditation Program to begin your Meditation Journey.
---
Part II – Declutter Your Life Obligations
One of the main reasons for having so much stress is not able to differentiate between what matters and whatnot.
With this section, the authors help us identify things that matter, set goals and eliminate rest to free up time and energy to focus on our goals.
Strategy #1 – Identify Your Core Values –
This is one thing once set right can put things in their real perspective. Make lots of decisions much easier. Having said that, do keep in mind, it may not happen in one sitting and you may want to take your time with this exercise.
Ideas and tools in the book will help you with guidelines to set this right.
Strategy #2 – Create Quarterly S.M.A.R. T Goals –
If you are like me, who looks for actionable in every book I read, This point can be your biggest takeaway. I always struggled with this, not anymore.
According to Steve, lengthy goals (i.e., anything over six months) are often demotivating. When you know an outcome is months away, it's easy to procrastinate on taking consistent action.
You keep putting off your goals, promising you'll work on them next week. Next thing you know, it's a year later and nothing has been accomplished.
---
Part III – Decluttering Your Relationships
Our relations are one of the biggest sources of happiness in our life, so are the source of pain. Be it parents, spouses, children, friends and our professional relations.
As we move along in our journey these relations creates lots of good memories, however, it also creates lots of clutter, which we hang on to and let affect ourselves adversely.
Relationship Strategy #1: Be More Present –
In times of enormous distraction, being present in our relationship, the conversation is the biggest positive contribution we can make. You may consider the below tips to be more present in a relationship.
Practice emphatic listening – Listen to empathize and don't prepare response while listening. Just Listen.
Mindful speaking – Inculcate mindful speaking. Refrain from taunting, criticizing and use your words carefully.
Relationship Strategy# 2: Getting Unstuck From The Past –
Because relationships are so integral to our lives, it's not surprising that people from our pasts continue to cause us pain weeks, months, or even years after an encounter or relationship has ended.
Here are a few suggestions one may consider letting go of the past –
Resolve what you can.
Challenge your story.
Offer forgiveness.
---
Part IV – Decluttering Your Surroundings
Whether we like it or not, our physical surrounding makes a huge difference in our mood, thoughts, feeling, action and what we will accomplish.
This section is filled with awesome tips to boost productivity in professional and happiness in personal life.
Loved the example given in books in regards to procrastination –
Think about this: You likely spend at least one hour a day procrastinating. That's seven hours a week—nearly a full workday.
So you lose 52 full workdays a year to procrastination. What could you do with an extra 52 workdays?
---
I have also created a video of a few quotes from the book – Hope you like it. Please do subscribe to my YouTube channel – Myread4change
---
Conclusion –
Declutter Your Mind must be looked at as a guide rather than a book. You may obtain Declutter Your Mind E-book and many more E-books for free here.
Hope this summary encourages you to pick this book, and implement the lessons in it.
You may follow both the authors S. J. Scott on developgoodhabits.com & Barrie Davenport on Live Bold and Bloom.
If you like this book, you may also enjoy reading Think Straight By Darius Foroux.
Please share your thought in the Comment Section. I would love to hear from you.
Thank you for reading. Wish you a clutter-free life.
Muzammil