Book – Rich Dad's Cash Flow Quadrant (Guide to Financial Freedom) (Summary)
Author – Robert Kiyosaki
Genre – Non-Fiction, Entrepreneurship, Investing
Published in – 1998
Rich Dad's Cash flow quadrant is in many ways a sequence to Rich Dad Poor Dad, taking financial education further, distinguishing people into four categories by which they generate income.
Even though we're all human beings, we all respond differently regarding money and the emotions attached to cash it. And it's how we react to those emotions often determines which quadrant we choose to generate our income from.
About the Book –
The CASHFLOW Quadrant is a way to categorize people based on where they generate income from. There are four quadrants, and a person can be in more than one quadrant simultaneously.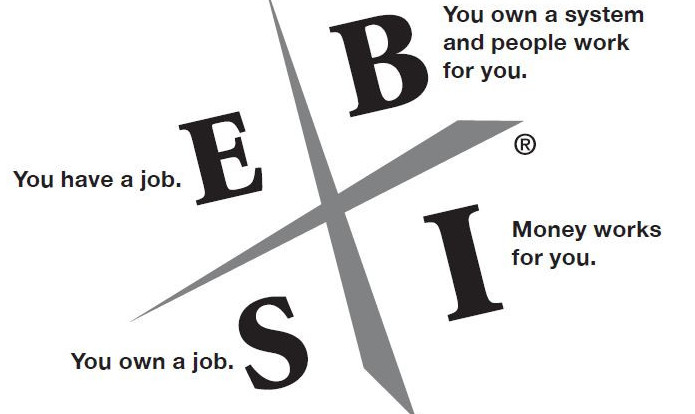 E – Employee (Full-time Job, working for someone else for a paycheck)
S – Small Business or Self-Employed (Professional like doctor, lawyer, accountant running independent practice)
B – Business (Owns a business system and leverages other people's time, money, and skill)
I – Investor (Invest money in cash-generating assets, businesses for profit sharing)
Roberts claims though financial freedom can be attained in all four quadrants, Roberts suggests moving to the right side of the quadrant to become truly financially free.
The book is divided into three parts. Part I – The core differences between people in the four quadrants. Part II – Bringing out the Best in Us -is about personal change—part III – The Seven Steps to Finding Your Financial Fast Track.
Here are excerpts from each part –
---
Part I – Core Values of People in each Quadrant
Robert discusses the core values of people in each quadrant, their beliefs about money, and how to identify them through their words in Part I.
1) Different Quadrant –
Which quadrant you or I choose to earn our primary income from depends not so much on what we learned in school. It's more about who we are at our core values, strengths, weaknesses, and interests. These core differences attract us to or repel us from, each quadrant.
It is important to note that you can be rich or poor in all four quadrants. Being in one quadrant or another does not necessarily guarantee financial success.
2) Identify People in Different Quadrants –
It's through the words we can get the core value of the person in each quadrant –
E – I seek a safe, secure job with good pay and excellent benefits.
S – I can't find people who want to work and do the job right." Or "I've got more than 20 hours into this project."
B – I'm looking for a new president to run my company.
I – Is my cash flow based on an internal or net rate of return?
3) Why People Choose Security Over Freedom –
Many people seek job security because that's what they are taught to seek at school and home. As adults, millions of people continue to follow that advice.
The reality is that your boss's job is not to make you rich. Your boss's job is to make sure you get your paycheck. It's your job to become wealthy if you want to.
4) The 5 Level of Investor –
Poor says Investing is risky, while Rich says Being financially uneducated is risky. Robert describes five levels of investors.
Level 1 – The Zero Financial Intelligence Level –
Many people who make a lot of money fall into this category. They earn a lot—and spend more than they deserve. They leave nothing to invest.
Level 2 – The Savers are Losers Level –
Many people believe it is wise to save money. The problem is that today, "money" is no longer money. Today, people are saving counterfeit dollars, money that can be created at the speed of light.
Level 3 – The "I am too busy" level –
This is the investor who is too busy to learn about investing. Many investors at this level are highly educated people who are too busy with their careers, family, other interests, and vacations.
Hence, they prefer to remain financially naïve and turn their money over to someone else to manage for them.
Level 4 – I am a professional investor –
This investor may buy and sell a few stocks, often from a discount broker. After all, why should they pay a stockbroker's higher commissions when they can do their research and make their own decisions?
The Level-4 investor is the do-it-yourselfer from the S quadrant investing in the quadrant.
Level 5 – The Capitalist Level –
This is the wealthiest level. The Level-5 capitalist investor is a business owner from the B quadrant investing in the quadrant.
They invest other people's money, primarily banks, which have gathered this money from level 2 and 3 types.
---
Part II – Bringing The Best In You
Keep striving, and you'll become somebody. Quit, and you'll become somebody, but not the same person.
The real issue is the internal change you must go through and who you become. For some people, the process is easy. For others, the journey is impossible.
It's this internal battle that makes it so hard. The struggle between who you no longer are and who you want to become is the problem.
People think that working hard for money and buying things that make them look rich will make them rich. In most cases, it doesn't. It only makes them more tired. They call it 'Keeping up with the Joneses.' And if you notice, the Joneses are exhausted."
To be successful as an investor or a business owner, you must be emotionally neutral to winning and losing. Winning and losing are just part of the game.
---
Part III – How to become successful B and I
This book section describes seven steps to guide you to the right side of the CASHFLOW Quadrant.
Step 1: It's Time to Mind Your Own Business –
Robert defines minding our business as building our asset column irrespective of our profession, whether we choose to work as E, S, or B. You can keep your day job but make a solid asset column rather than spend all you earn and remain in the "Rat Race" forever.
Step 2: Set Financial Goals & Take Control of Your Cashflow –
Most people have money problems because they were never schooled in the science of cash flow management.
More money will not solve the problem if cash flow management is the problem. More money makes most people poorer because they often increase their spending and get deeper into debt every time they get a pay raise.
Good debt is debt someone else pays for you. Bad debt is debt that you pay for with your sweat and blood. Rich Dad encouraged Robert to buy rental real estate because "the bank gives you the loan, but your tenant pays for it.
Step 3: Know the Difference between Risk & Risky
Robert claims that business investment is not risky; being uneducated is.
The one is managing cash flow well has more enormous asset columns and higher income from that asset class than one mismanaging their cash flow.
Financial literacy is looking at the numbers with your eyes and training your mind to tell you how the cash flows. Rich dad often said, "The direction of cash flow is everything.
Step 4: Decide What Kind of Investor You Want To Be –
Apart from the five levels of investors, Robert also put one more distinction with three kinds of investors.
• Type-C investors are financially uneducated and look for people to tell them what to invest in.
• Type-B investors seek answers. They should interview several tax advisors, attorneys, stockbrokers, and real estate agents, choose carefully, and implement their advice.
• Type-A investors look for problems caused by those who get into financial trouble. They are typically Level-5 investors with solid economic foundations.
Step 5: Seek Mentors –
A mentor tells you what is essential and what is not necessary.
Just as there are mentors who are excellent role models, there are people who are wrong role models. In most instances, we all have both types in our lives.
Step 6: Make Disappointment Your Strength –
The size of your success is measured by the strength of your desire, your dream, and how you handle disappointment.
Step 7: The Power of Faith –
For those of you who are considering embarking on your own financial Fast Track, you may have some doubts about your abilities.
Trust that you have everything you need right now to be successful financially. All it takes to bring out your natural, God-given gifts is your desire, determination, and deep faith that you have a unique genius and talent.
---
I have also created a video of a few quotes from the book – I hope you like it. Please subscribe to my YouTube channel – Myread4change.
Conclusion –
Rich Dad's cashflow quadrant will help you identify which quadrant you are in and help you move or operate in more than one quadrant to attain financial freedom.
You will come face to face with your core values about money and your belief about work preference.
If you like this book, you will also like The Millionaire Next Door and The Psychology of Money.
I hope this summary helped you understand what to expect from the book.
I wish] you a Financially Stable/Free life.
Thank you for Reading.
Muzammil