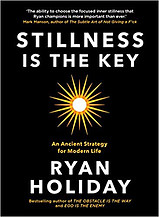 Book – Stillness is The Key (Summary)
Author – Ryan Holiday
Genre – Self- help Book
Published in – 2019
"Stillness is not an excuse to withdraw from the affairs of the world. Quite the opposite—it's a tool to let you do more good for more people"
One of the best line in the book that shows stillness is not limited to monks anymore and is very much streamlined and is indeed need of the hour for each of us to lead peaceful happy life.
Picked another book from Ryan Holiday after The Obstacle is the Way. It is another good book that talks about significance of stillness in our day to day life. I like writing style of Ryan and anyone who has read any of his book will testify to his frank way of putting across his point and give straight advice.
About the Author –
Ryan Holiday is one of the world's foremost thinkers and writers on ancient philosophy and its place in everyday life. He is a soughtafter speaker, strategist, and the author of many bestselling books including The Obstacle Is the Way; Ego Is the Enemy; The Stillness is the Key and The Daily Stoic.
About the Book –
Stillness is not only advocated by philosophy as the key for serene life and achieve what we want in life, but also supported by science. Many researches have been conducted on the advantages of stillness. The book promises to help reader find that key.
He defines Stillness this way – To be steady while the world spins around you. To act without frenzy. To hear only what needs to be heard. To possess quietude— exterior and interior—on command.
The book is divided in three parts and suggests achieving stillness in Mind, Spirit and Body. Author explains and suggests ways of achieving this through anecdotes and examples of famous philosophers, sportsmen, politicians, emperors.
He goes on to explain how these people solve their concerns with principles suggested in the book and how we can use to resolve our modern times concern of distraction and over load of information for peaceful life.
Couple of points from each section to ponder upon –
1) Mind –
Being present in the moment –
This sounds very simple yet it is one of the most difficult thing in the time with full of distraction. Think about it when was the last time you ever felt that you were in the moment or you got undivided attention from someone or vice versa.
As Maria Abramovic says it "People don't understand that the hardest thing is actually doing something that is close to nothing, It demands all of you. . . There is no object to hide behind. It's just you.
Be very cautious of intake of information and as our mind can process everything, but it is our job to make sure what matters most and gets full energy of our brain. Ask yourself at every moment, 'Is this necessary?'
There's a great saying: Garbage in, garbage out. If you want good output, you have to watch over the inputs.
Michel Foucault talked of the ancient genre of hupomnemata (notes to oneself). He called the journal a "weapon for spiritual combat," a way to practice philosophy and purge the mind of agitation and foolishness and to overcome difficulty.
One line on journaling – It's a few minutes of reflection that both demands and creates stillness.
Journaling is a way to ask tough questions: It can also be looked over as brain dump in moments of anxiety/overwhelm.
Where am I standing in my own way?
What's the smallest step I can take toward a big thing today?
Why am I so worked up about this?
What blessings can I count right now?
Why do I care so much about impressing people?
What is the harder choice I'm avoiding?
Do I rule my fears, or do they rule me?
How will today's difficulties reveal my character?
I am personally benefiting a lot from journalling and can vouch for this one practice that keep me on track and in line with my goals.
2) Spirit –
We need to analyze our desires and put them under microscope as to where they come from. Is it coming from comparison or is it something we really want.
To have an impulse and to resist it, to sit with it and examine it, to let it pass by like a bad smell—this is how we develop spiritual strength.
No one is happier than the person who knows what is enough and appreciates and enjoy when he has enough. Ryan explains with really good anecdotes.
Epicurus sums it up pretty well with one line – "Nothing is enough for the man, to whom enough is too little."
Enter in to relationship –
Ryan explains that stillness doesn't mean we have to leave the world behind. He in fact suggests getting in relationship, as most of the joy and happiness comes from our relationship with self and others. And our relationship with self also improves through our experience, which requires relationship with other.
As Seneca puts it – There is no enjoying the possession of anything valuable unless one has someone to share it with.
3) Body –
When we know what to say no to, we can say yes to the things that matter. In times when we want to matter and considered important or we call FOMO (fear of missing out), we often end up saying Yes to lot of things, that we don't even want in the first place.
This reminds of one line in a book I read "Either it's Hell Yeah or Not at all.
This simple yet immensely beneficial. There are numerous research done on the benefits of taking a walk not only to body but mind and spirit as well. You may consider below suggestions if you opt for a walk.
1. Go to different places if possible.
2. Instead of listening to music or anything. Observer you're surrounding, be in present, enjoy every moment. Focus on your thoughts, let go all worries.
First thing usually that comes in mind with word routine is boredom, however there are ample stories of success. Anyone who has achieved significant success in any domain has a routine.
If you read self-help books or follow people online you will come across many great routine ideas and it doesn't matter if you pick one or build one so long as it serves you well in accomplishing anything you opt for.
I have also created video of few quotes from the book – Hope you like it. Please do subscribe to my You Tube channel – Myread4change
conclusion –
The book is filled with many more ideas over and above I shared in this summary. I suggest you consider reading this book. I am sure you will love the book and will consider putting in to practice what book offers.
You may buy this book based on your location from Amazon India or Amazon UAE or listen to Audio book for free with Amazon Audible free trail. #ad
Please share your feedback/suggestion of this summary in the comment or if you have any questions and I will be glad to answer them.
Wish you a peaceful STILL life.
Muzammil