Book – The 7 Habits of Highly Effective People (Review)
Author – Stephen R. Covey
Genre – Self-help Book
First Published in 1989.
It is among the best and highly recommended books on personal development and positive change for a better life. I wanted to read this book for a very long time.
Thanks to the one book a week pledge, I can read many books like this one, which are on my read list, and I am happy to share the review here.
In the beginning of the book, the problems and challenges the Author has described in personal, professional, family, and social life cover many issues that we see or might have some of them ourselves.
About the Author

–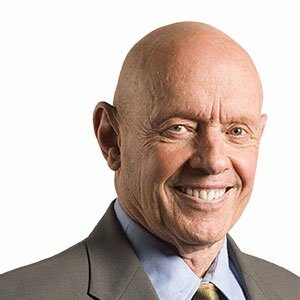 Stephen R. Covey was an American educator, Author, businessman, and keynote speaker. He was well known for this book, among others he has written, like First Thing First and The 8th Habit.
About The Book

– 
The book contains seven habits with an Inside-out approach to personal and interpersonal effectiveness. It goes way deeper than working on personality ethics like attitude, behavior, and communication skill that usually doesn't give long-lasting result.
Dependence, Independence, and Interdependence are three stages of life that one must travel to reach a happy, fulfilling life.
Habit 1, 2, and 3 teaches improving self by recognizing our paradigms, shifting those paradigms, and putting the first thing first.
Habits 4, 5, and 6 take a person from independence to interdependence. Habit 7 is about renewing the self (sharpening the saw) by taking at least an hour for self.
Here are seven habits in a nutshell
---
HABIT 1 – BE PROACTIVE
It is about being proactive rather than reactive, using our self-awareness to determine what drives our behavior, and then deliberately deciding our response rather than being stimulated by other's opinions and social mirrors.
It is about taking control of our own choices. Our most significant power is between stimulus and response- the freedom to choose.
---
HABIT 2 – BEGIN WITH THE END IN MIND
Once we become self-aware of why we believe what we believe and what drives our daily behavior, we can start writing our mission statement of life, like how we want to pursue our life and what we want to accomplish, personal, professional, family, social, or spiritual.
If the ladder is not leaning against the right wall, every step gets us to the wrong fence faster.
---
HABIT 3 – FIRST THING FIRST
Once we identify our goals, purpose, and what matters, we have aligned our actions to allow us to progress in the desired direction. This concept is explained in great detail with excellent techniques to get the right things done.
One of them is dividing all we do into four quadrants – I) Urgent and Important, II) Important but not Urgent, III) Urgent but not Important, and IV) Not urgent, not Important.
---
HABIT 4 – THINK WIN-WIN – PRINCIPLES OF INTERPERSONAL LEADERSHIP.
This habit talks about dealing with other people, personally or professionally, and devising win-win solutions to nourish the relationship between the people involved.
All other outcomes like Win- Lose, Lose-Win, Lose-Lose, and Win at any cost may give us our way, but certainly, it's a short-term solution and will deteriorate the long-term relationship.
---
HABIT 5 – SEEK FIRST TO UNDERSTAND, THAN TO BE UNDERSTOOD
This is the most profound habit that one needs to develop. In a fast-paced life, people barely listen to understand and empathize; instead, they draft their responses while listening.
Active listening helps understand other's points of view; unless this is done, one will never succeed in effective communication. This habit is explained well, and the techniques shared are fantastic.
---
HABIT 6 -SYNERGIZE
This habit can work only once habits 4 and 5 are taught well. If we have win-win as our intent and seek to understand rather than seeking to be understood first, we can often come up with third solutions, which may not be the initial solutions both have in mind.
As both have respect for one other's point of view, they will often reach a win-win solution, and even if they conclude with no deal, which is rare, they will walk out with respect and integrity intact.
---
HABIT 7 – SHARPEN THE SAW
This is the habit of protecting the best asset you have. Yourself. We must take our time to exercise, play (Physical), and enhance our knowledge through Reading, listening (Mental and emotional), Pray, and meditating (Spiritual).
---
I have also created a video of a few quotes from the book – I hope you like it. Please subscribe to my YouTube channel – Myread4change.
---
Conclusion

–
Some books need to be read once, books that can be read periodically, and books that need to be used as working Manuel. The seven Habits of Highly Effective People fall under the 3rd category. I highly recommend this book at least once in two months and keep working on all seven habits until it becomes second nature.
I hope this article helped you understand what to expect from the book. Read this one book; You will be glad you did.
If you like this one, you may also want to Do It Today by Darius Foroux
Please share your feedback/suggestions about this post in the comment below or if you have any questions. I will be glad to respond.
I wish you a wonderful life. Thank you for Reading.
Muzammil